As you might expect, the agenda at MWC Barcelona 2023 is stacked heavily in the favour of 5G. No wonder. It's the fastest growing segment in wireless infrastructure spend globally, as the rate of investment accelerates.
Speakers at MWC will once again emphasise why it's now or never for operators to show shareholders that the billions invested can be recouped.
Profitability undermined by legacy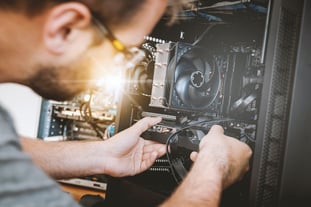 Many operators are hamstrung by their legacy systems, which were designed well before the advent of 5G. Old technology stacks and manual processes still prevail in operational models. It's most acute in areas of billing and business support systems (BSS). The risk of changing these environments and migrating to automated and more agile digital technologies is considered too great. Getting it wrong could undermine profitability, especially in the highly valuable business segment.
On the flip side, failure to adapt will curtail an operator's chances of reducing overheads and making the operational improvements associated with customer service, experience, and satisfaction.
It's clear from market reports, that corporates are moving from a state of 'watch and wait' to one of 'invest now' as they see the potential of 5G to improve efficiencies and cut costs. Added to which, the pace and extent of 5G network rollouts gives leaders the reassurance they need on coverage, reliability, and security.
As a result, transforming supply chains, introducing private networks, and taking advantage of IoT monitoring are all genuinely on the cards. The business case to reduce costs in the supply chain, gain greater control of their comms, and deliver better services to their own customers stacks up in a way it hasn't before.
But none of this will materialise if operators don't have the capability to deliver it with flexible propositions that can be easily and transparently billed, while meeting the stringent SLAs customers will demand.
Monetising 5G
Monetisation of new services has always been at the centre of the 5G debate. It was clear even before the first cells were rolled out that operators would need a digital BSS that could more accurately identify and make savings on operating costs and deliver revenue growth.
Analysts have long held the belief that BSS should have a core set of capabilities for 5G enablement:
End-to-end automation to replace manual processes
Zero-touch self-care, especially for business customers
Real-time billing management, including notifications and balances
And customer analytics to forecast demand, revenue, and business development opportunities.
There's much to be gained from adopting a comprehensive digital BSS platform too. Our research shows that it could increase EBIT by as much as 34%.
That's a significant sum in today's economic climate, and underlines why deliberations on whether to digitise BSS must stop. It's now imperative for competitive advantage and shareholder value to move business customers to platforms that are more agile, more effective, and more able to drive revenues. As Omnisperience once said, failure to do so will risk "delivering a 5G network with a 2G experience". No operator can afford to put their customers in that position.
Sophisticated partner models needed to underpin strategy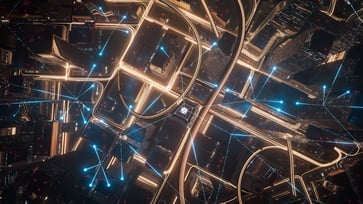 However, it's not all about the operator. Achieving the 5G vision will require a shift towards more collaborative working relationships between operators, their customers, and third parties. Everyone from IoT providers, network infrastructure manufacturers, to application designers will all need to come together to bring 5G strategies to life.
Back in 2020, corporate leaders were predicting that they would need up to 50 partners involved in the realisation of their digital service strategy. Fast forward to today and the predictions are becoming reality. Our conversations with the frontrunners indicate the enormity of the challenge.
One of the starkest realities relates to obtaining expertise in billing and implementing the engines that can handle the interdependencies seamlessly between partners. For instance, being able to both credit and debit stakeholders, based on the overall value or revenue of the services being created and delivered, is among the most stated critical dependencies.
It's why we believe we'll see more demand for sophisticated partner-management capabilities this year. The ability to deftly manage multiple moving parts and provide a real-time view at any moment in time, will be essential for ensuring 5G strategies deliver on their promise.
With a dedicated partner at the helm, operators can take advantage of their experience in managing complex migrations and establishing the right technology environment for customers and partners alike. Above all, operators can be guaranteed the transparency and agility they need to deliver market leading propositions and competitive pricing models as well as satiate the demands of shareholders.
At MDS Global, we have been supporting the complex needs of the business sector through our BSS monetisation platform since our inception. Our B2BonDemand solution is 5G-ready, providing end-to-end automation, self-care, customer analytics, real-time processing, notifications, and balance management. Our specialist business functions enable service providers such as BT and Virgin Media O2 to manage the complex needs of this lucrative market.
If you're attending MWC Barcelona and would like to discuss the challenges your business is facing then follow this link to set up a meeting in Barcelona or contact us to arrange a call.