Reduce costs. Increase margin & value. Improve retention. According to our customers, these are the three biggest priorities for telecoms across the world. Economic turbulence, cost conscious consumers and increased costs are the driving forces. It's why the trend to adopt 'digital-first' strategies has become so pivotal to addressing these pressures. It's most prevalent among the challenger brands in the industry, who know they can steal a march on the incumbents.
What do consumers want?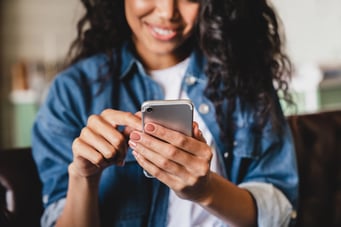 Customer expectations have also changed thanks to Amazon's model of product recommendations and next day delivery. We all know that consumers expect good value from their mobile provider. However, the marketing tactics of telling people they are on the best plan are no longer cutting through. Today, people want to see it for themselves, get highly personalised offers, and be in complete control of the choices they make.
It means that it doesn't matter how exciting the proposition or service is, people will disconnect if they don't get full value for money. Being able to manage an account online is top of the wish list for selecting an operator. People want to know they can pay a bill easily, adjust payment schedules or price plans, and see their usage at any given moment. What's more, people are unlikely to sign up in the first place if it's not easy to do.
The shift in customer perception isn't new. We've seen it drive change in the market for the last few years. But it has become a more acute need as global economic pressures mount and hit consumer wallets.
Five opportunities to take advantage
Rather than spell doom and gloom for MVNOs and digital brands, this presents five opportunities to reduce costs, improve efficiency and boost loyalty. So how can digital journeys help?
Great joining experiences attract customers. Making it easy to find a plan and sign up online or through an app is going to make your brand stand out. The fewer steps the better. Our ethos is that online sign-up journeys should take minutes and be ultra-slick, so transactions are done in just a handful of clicks.


Frictionless experiences matter. Brands that make it easy to buy, change and get help, do better in the battle for subscribers. For example, porting should be easy, there's no excuse for it not to be. Digital models can automate the admin on behalf of customers. Looking ahead, the operators that are first to launch new technologies such as eSIM, will win.
Giving customers transparency counts. Knowing you will get full value for your money is hugely important today and there's no doubt that providing a real-time view of an account status builds brand trust among consumers, especially as people more closely manage household budgets. Dedicated apps that can be deployed 'out of the box' and fully branded can play a big role in making a fast start on achieving this goal.



Customer control and flexibility drives loyalty. Being able to make changes to an account set up, such as adding lines, changing plans, or adjusting payment schedules, is vital for growing loyalty and increasing someone's propensity to recommend your brand for ease of use.

This has always been important, but as times get more challenging, people want more personalised offers. The brands that put this at the heart of their user experience will delight more customers. Operators should be looking for out of the box apps that can be tailored, with little development, to suit specific propositions and service promises.
Customer care is more efficient and cost effective. Customers like to do things their way. Some will prefer to follow a quick online process, but some will want to call. The best implementations of digital-first strategies will recognise these different behaviours and use digital models to help manage the expectations of the more technically savvy, and in turn, free up time to help those customers that prefer personal help and interaction.

As a result of fewer calls, agents will have less pressure on them and more time to help with complex queries. The net result is more first-time resolutions, creating a win-win for customers and agents.
Have you got the digital expertise you need to succeed?
Turning these opportunities into reality is hotly debated in the boardroom. It takes operational skill, market expertise, and an agile and flexible technology strategy. That's why MVNOs turn to us for help. Our business support capability covers everything they need to get the accurate and real-time billing elements of the journey in place be it online or in apps.
Our technologies are also providing the data that enterprises need to make better decisions about how to adjust service or manage churn, and the insight they need to innovate and launch new products for existing and new segments.
Above all, working in partnership with us, our customers remove the associated risks of in-house development and ensure time to market is fast. Plus, it provides the flexibility and confidence they need to react to market changes in the future.
We work with brands around the world that have achieved a fast ROI on their investment in digital journeys online and in apps, improving margin, lowering costs, and boosting net promoter scores. Find out how iD Mobile – the UK's largest 100% digital MVNO – benefit from lower operational costs, higher profitability and increased customer satisfaction and loyalty.