In the UK, 99% of businesses are small or medium sized, meaning that they employ 0 – 249 people, and 96% are micro-businesses, employing 0 – 9 people [1]. Given its size, the SME market holds much potential for service providers, yet it is chronically underserved. This is because SME customers often use consumer contracts rather than business contracts as they believe that the latter will cost more, without delivering any additional benefits.
However, the SME market is starting to demand more. SME customers want access to more IT services, and they want them to be fully convergent. They are ready to take advantage of the reduced costs, increased productivity and potential for internationalisation that dedicated business plans can provide.
In addition to this, consumers now expect even the smallest business to have an online presence, and employees expect the technologies they use at home to exist at work, placing additional pressure on SMEs to embrace these technologies.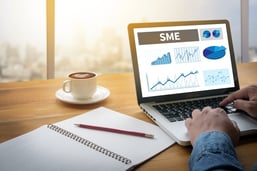 In order to identify and acquire SME customers, service providers must create targeted, transparent and appealing propositions that encourage self-identification. The obvious starting point is to consider what SMEs value - accurate, itemised billing, clear pricing, flexibility, shared plans, and fast and efficient problem resolution – and incorporate these features into their strategy. Here are our six steps:
1. Broaden your service portfolio
Service providers that own the network can harness their capabilities to meet the basic needs of SMEs, later adding value through more sophisticated network-based services. Options include:
Deploying multiple services, as SMEs prefer just one supplier
Enhancing coverage and availability
Meeting Quality of Service (QoS) expectations and offering tuneable QoSs so that customers can pay extra to have their traffic prioritised
Offering meaningful Service Level Agreements (SLAs)
Adding security services
2. Develop an SME portal
This portal should offer features such as personalisation and self-care functionality, a bill archive, product recommendations, FAQs and a channel for recording and resolving complaints.
3. Use automation and self-configuration
Increase automation so that human effort is utilised only where it adds value, and support self-configuration so that the customer does most of the work. It is difficult to deliver a high level of customisation, but by enabling customers to build and configure their own bundles, their needs can be met from a relatively small number of options.
4. Verticalise the offer
Consider verticalisation – providing price plans or products that are configured to meet the requirements of a certain industry, such as retail, utilities, or even a particular trade. When coupled with self-configuration, verticalisation can be very effective as it enables user choice whilst avoiding the support costs involved in configuring a plan for each individual business.
5. Communicate and educate
Some parts of the SME market are relatively unskilled in digital technology when compared with technically educated staff in larger companies. This provides an opportunity to win mindshare from rivals through effective and incremental communication, driving uptake and loyalty. Communication should be both proactive and interactive. It shouldn't focus solely on negative activities, such as faults, complaints and paying bills, but should create positive interactions, such as money-saving recommendations and offers of free trials.
6. Show them the money
Like all businesses, SMEs are motivated by their bottom line. They will be more interested in a proposition if they can see how adopting new technologies will lower their operational costs and improve their sales and marketing initiatives. Assist them with their digital marketing by hosting their website and providing expertise on connecting with buyers, and support their sales and internationalisation efforts by supplying their CRM and eCommerce services.
These six steps offer a comprehensive plan for winning in the SME market. However, it would be difficult to implement all six steps at once, so we recommend starting with increased process automation, verticalisation and self-care/self-configuration, and using cloud or managed services to overcome infrastructure barriers and get to market quickly.
Learn how MDS Global's B2BonDemand can help you to reach the underserved SME market >>
[1] 'Business Statistics', House of Commons Library Briefing Paper Number 06152, https://researchbriefings.parliament.uk/ResearchBriefing/Summary/SN06152
This post was originally published in May 2017 and has been updated for accuracy and comprehensiveness.