5G was undoubtedly the star of this year's MWC. There were numerous predictions of how 5G will be as revolutionary as technologies such as electricity and the combustion engine, and how it will bring about "the future" as portrayed by Hollywood.
Several device manufacturers showcased their 5G smartphones at the event, including Huawei with its foldable device and Motorola with its upgradable handset. And with at least 20 operators announcing plans to launch 5G in over 60 markets this year, the wait for the latest generation of wireless technology is almost over.
Whilst it will be a few years until 5G delivers its full potential, we can be certain that it will disrupt almost every industry. It will fuel a wave of new businesses and catalyse the death of others. The impact of 5G on various industries was a major talking point at the show, with exhibitors demonstrating how their 5G solution will revolutionise their niche. Here is a roundup of the most interesting use cases:
Healthcare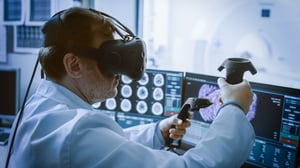 The Government of Catalonia showcased its 5G ambulance. Once launched, these vehicles will have a dedicated network slice that will enable them to receive specialised remote support in real time via high-definition video to help them to care for their patients. They will also be able to communicate with other vehicles so that they can clear the roads and get their patients to hospital more quickly.
There was much talk of how 5G's low latency will enable remote surgery. Surgeons will be able to use robots to perform operations on patients hundreds of miles away, so high-quality healthcare will be available to everyone, assuming, of course, that they can pay for it.
These two technologies may one day be combined so that surgeons can operate remotely on patients travelling to a hospital. Hopefully, if this time comes, potholes will be a thing of the past.
Transport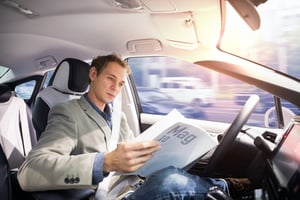 For many outside the industry, the connected car is a source of fear. There are concerns around what would happen if the car has to make a moral choice – what if a child runs into the road and the car has to choose whether it hits the child or another car? There are also concerns that the car may stop suddenly if it loses signal or performs a software update.
SK Telecom's connected car demo would help to allay these fears as it showed how the car responds to various hazards, including a child running into the road. It even showed the car having to pull over for a security update. Conveniently, this update took just a couple of seconds.
Another issue that is sometimes raised is around what would happen if an autonomous car crosses a border to a country with different regulations, or switches to a different network. 5GCroCo outlined their 5G cross-border trial that aims to standardise the telco and automotive industries in France, Germany and Luxembourg so that autonomous cars can easily cross these borders. It is likely that similar trials will be conducted along other borders.
Industry
Hollywood has shown us a future in which humans and robots work side-by-side in harmony, until the robots rebel and start killing us off. However, the industrial robots demoed at this year's MWC showed no sign of their upcoming rebellion. One demo showed how the factory of the future will have designated zones in which only robots can work. Sensors will detect if a human enters the realm of the robots and will disable the robots. 5G's low latency will ensure that there is no delay in shutting down the robots, so the human will not be harmed.
Gaming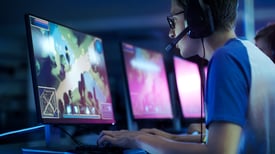 The impact of 5G on gaming received a lot of airtime at the show. The ultra-low latency and limitless storage will mean that games can be streamed, rather than downloaded, which will result in new Netflix-style game streaming subscriptions. Consoles will no longer be required as gamers will be able to play on their phones and laptops.
These use cases are just a taster of 5G's almost limitless potential. However, for operators, there are still unanswered questions around the commercial models and arrangements - the cost of mobile connectivity has decreased over time, so will users be willing to pay a premium to access services that use 5G? Whatever path this takes, operators will need to modernise their IT systems so that they support these new commercial models and enable them to recuperate their multi-billion dollar investments in 5G.
One thing we do know is that enterprises are a key route to market for 5G services. Enterprises are delivering innovative ideas such as the 5G ambulance, autonomous cars and robots-that-care that were showcased at MWC.
MDS Global's B2BonDemand is a dedicated BSS solution for service providers to support enterprise and IoT projects in this new era. Learn how B2BonDemand can help you to prepare for 5G.