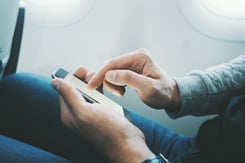 What's the first thing you do when your international flight lands? If it's not unclipping your belt, jumping up and grabbing your bags from the overhead locker whilst the plane is still taxiing to the gate, then chances are it's turning on your mobile phone to receive a message from your network, welcoming you to another country and advising you just how expensive it will be to use your mobile phone during your trip.
The growth of cost-conscious consumers has partly fuelled the breadth of Mobile Virtual Network Operators (MVNOs) – increasing by 70% between June 2010 and June 2015, reaching 1,017 worldwide.
Data collected by Ofcom shows that subscribers spent £350m on roaming with UK networks within the European Economic Area (EEA) alone in 2015, with average usage whilst roaming 4 times lower than on a home network[1]. It seems counter-intuitive that we use our communication devices less when we're away than when we're at home, yet this is understandable given the fear of bill shock.
The European Commission is finalising proposals that would protect its citizens from roaming charges incurred within the EU. These plans are still working their way through legislation and will not affect EU citizens outside of the EU, but for now it's business as usual for the MNOs and MVNOs.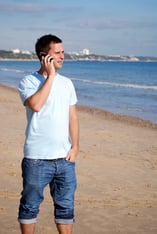 Of their own initiative, many MNOs and MVNOs have already implemented reduced cost roaming bundles, and some have even removed roaming charges completely for selected destinations. This satisfies the consumer's desire for affordable connectivity, but further erodes network revenues, which have already been challenged by having to subsidise increasingly expensive smartphones and the associated over-the-top (OTT) services.
The main consideration for many people when using a mobile device abroad, especially outside of the EU, is the need to balance convenience and cost. Making a voice call can cost 10 times more when in another country, and disabling data roaming and relying on Wi-Fi can be inconvenient. This makes us feel disconnected from our world.
Imagine landing in Dubai and rather than receiving a text message informing you that you will pay 10 times more for data and voice calls, and having to choose between hunting hotspots and limiting your usage, you can instead choose a dedicated roaming bundle and use real time charging to check your usage on the screen of your smartphone.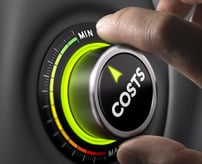 Now imagine a world where your business can buy a single, consolidated roaming bundle, ready for users to access as and when required, ensuring your people stay connected, but also controlling costs.
One of the big problems facing business mobile is that roaming usage can fluctuate unpredictably, and looking after dozens, hundreds or even thousands of subscribers across a business account can be daunting.
In an increasingly globalised world, isn't it time our mobile communications were global? Perhaps then the biggest decision you make when your plane lands would be who you're going to call first.
Find out about the MDS Global Roam Like Home service >>
[1] 'Cost to UK Consumers of Mobile Roaming in the EEA,' Department for Culture, Media and Sport, https://www.gov.uk/government/uploads/system/uploads/attachment_data/file/502381/Costs_to_UK_Consumers_of_Mobile_Roaming_in_the_EEA.docx